Broadening the possibilities of dashi
by cultivating our unique technological competence
After Maruhachi Technology was established in 2009, the company has been manufacturing and distributing natural seasoning and bio-pharmaceutical manufacturing materials by utilizing fishery resources. We are equipped with state-of-the-art machineries which acquired international certification standard for food safety management, and have been broadening the possibilities of Japan's one-of-a-kind ingredient, dashi with our technological strengths. Our parent company is Maruhachi Muramatsu, Inc. located in Yaizu Shizuoka. Maruhachi Muramatsu, Inc. was established back in 1868 as a manufacturer specializing in dashi. Not only will we continue to contribute to the food and pharmaceutical industries, we will endeavor and aim to develop as a company that can contribute to environmental conservation and regional development.
1. Corporate Philosophy
Gain trust, share happiness.
2. Our Mission
We will honor our tradition and hone our procurement, technological, and application capabilities to produce safe, nutritious, and delicious dashi from bonito and other natural materials that will be offered to the world for many, many years to come.

Maruhachi Technology is located in Makurazaki City
of Kagoshima, the southern tip of mainland Japan.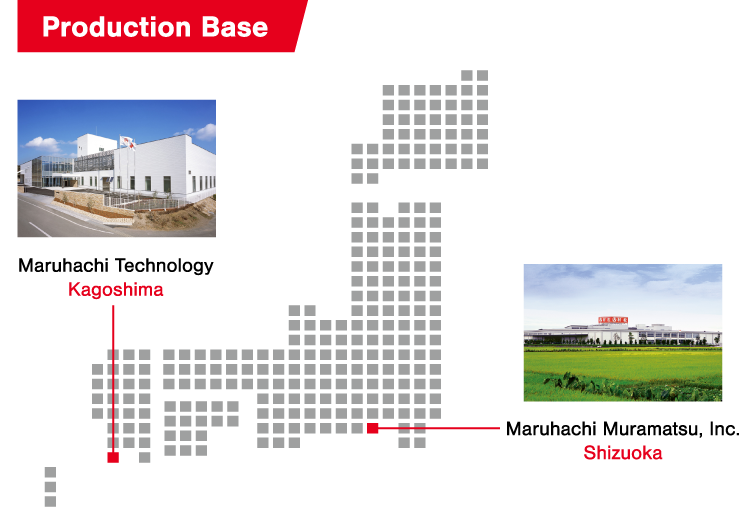 Maruhachi Technology is located in Makurazaki City of Kagoshima, the southern tip of mainland Japan. Makurazaki City, located at the southernmost point of Kagoshima's Satsuma peninsula (the western half of Kagoshima), has outstandingly thrived with catches of bonito from the Edo era. Now the region is well-known as the leading producer of dried bonito, a basic ingredient for bonito dashi within Japan. Our parent company, Maruhachi Muramatsu, Inc. is located in Shizuoka, a region known for Mount Fuji. By curious coincidence, you can also enjoy the similar majestic view of Mount Kaimon, often called "Satsuma Fuji" in Makurazaki City.
In volume of landings, bonito ranks number one fish caught in the ports of Makurazaki City. The volume of frozen bonito is high particularly, ranking number two in Japan.

Makurazaki City ranks number one in Japan for the production volume of dried bonito, made from bonito.

The magnificent contrast of leaf mustard and the rich green of Mount Kaimon, standing 924 meters tall can be enjoyed during the spring time.

Yakushima Island, a registered World Natural Heritage Site is also within Kagoshima, where Makurazaki City is located.
Dashi, an essential ingredient in Japanese cuisine.
Brings out the natural umami of the ingredient, taking the dish to a next level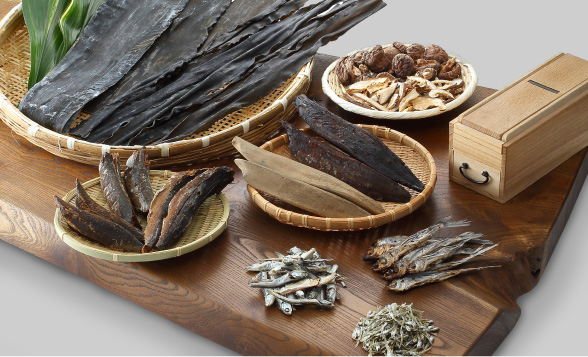 Dashi is liquid form of ingredient made by extracting the flavor from fish and vegetables. In Japanese cuisine, dashi of dried bonito and kombu (dried kelp) is most frequently used to add umami, serving as a base for Japanese dishes. Studies have revealed that the umami flavor comes from dried bonito's high inosinic acid content. This inosinic acid is also effective in fatigue recovery as well as improving blood flow regulation. With the Japanese cuisine's induction into the UNESCO Intangible Cultural Heritage list in 2013, Japanese food has gained popularity more than ever by its healthy nature and rich flavor of umami.
Maruhachi Muramatsu, Inc., our parent company located in Shizuoka.
Maruhachi Muramatsu, Inc. is a long-established manufacturer specializing in dashi.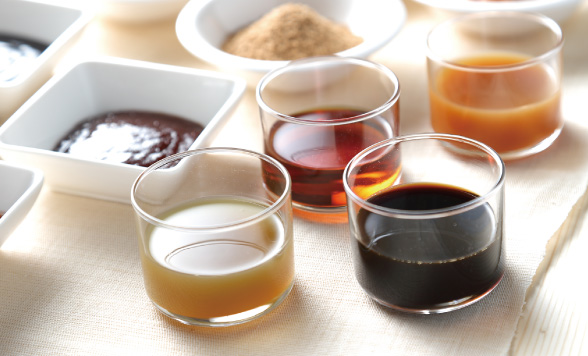 Since it was founded in the first year of Meiji era, the company has been consistently committed to using natural ingredients. As the dashi specialty manufacturer, Maruhachi Muramatsu, Inc. has respected its tradition while developing a wide range of natural seasonings based on technological innovations. Maruhachi Muramatsu, Inc. flexibly solves customer issues and problems by making full use of its integrated production base covering purchasing raw ingredients, development, manufacturing and sales, in addition to strengthening quantity, speed, risk avoidance and shipping.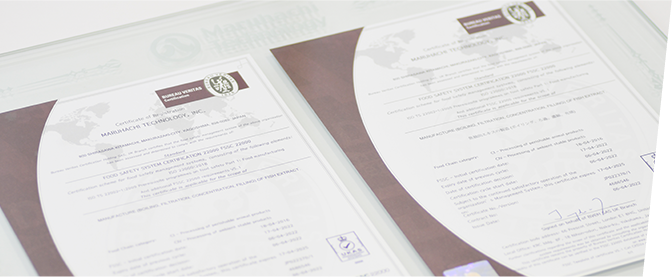 As an FSSC22000 certified company, we provide safer and more reliable products
We have acquired the international food safety management standard certification, which has been gaining attention by major companies as a "proof of food safety". Whilst delivering safe and reliable products, we also constantly put in all effort to improve quality levels.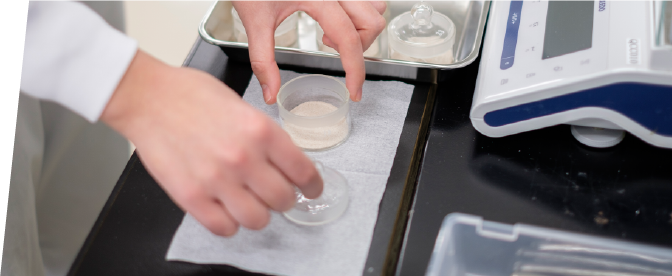 The possibility of the world famous dashi culture opens up by our products being instrumental in food and pharmaceutical industry
In addition to utilizing our products as an ingredient for natural seasonings, we also provide our products to pharmaceutical manufacturers. Our products are playing an active role in the manufacturing sites of pharmaceuticals used both in Japan and overseas, expanding the possibilities of dashi by contributing in the areas of food and health.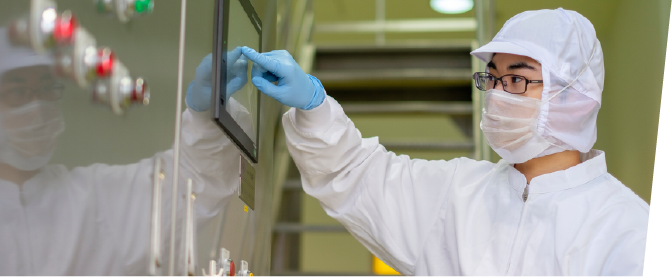 As an environment-friendly business, we effectively use marine resources
Effectively using natural resources is not limited to fisheries, but is a global issue. Thus our mission is to promote environmentally-friendly business. We have the technical ability to utilize limited resources without it going to waste and transforming it to a more valuable product.

Why we put in our effort on SDGs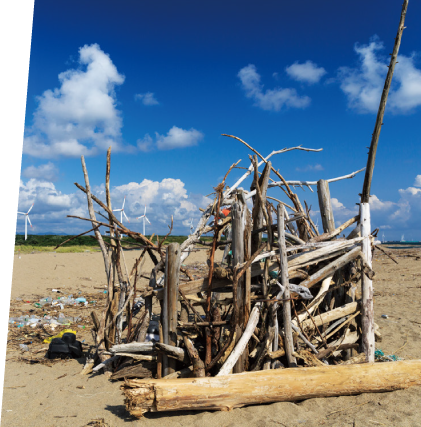 Supporting people's health through "dashi culture" and contributing to the realization of a sustainable society
As a company that utilizes natural resources, the current extreme weather and marine plastic pollution are one of the major management issues for Maruhachi Muramatsu Group as a whole. We are tackling these issues to protect marine resources and the environment for the sustainable use of natural resources, especially bonito.
What is SDGs?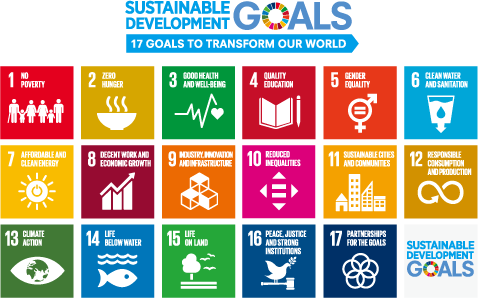 In September 2015, the United Nations Sustainable Development Summit was held at the United Nations headquarters. "2030 Agenda for Sustainable Development" was adopted unanimously by the 193 countries and the "Sustainable Development Goals (SDGs)" was listed. The SDGs consist of 17 goals and 169 targets, and the companies of member countries are expected to participate and contribute to achieve these goals by 2030.
Works related to SDGs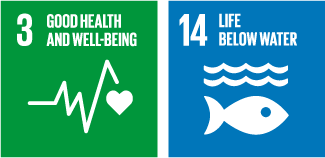 Passing down the dashi culture
Dashi is an indispensable part of Japanese food culture. We will deliver the traditional dashi culture so that it can be enjoyed more freely and easily.

Coexistence with the community
Maruhachi Technology has coexisted with Makurazaki's bonito culture. Going forward, we will continue to treasure our local business partners and endeavor to resolve social issues through our business.

A workplace that attracts employees
Maruhachi Technology is supported by employees and their families. They are also our local customers. We will continue to create a working environment that motivates our employees and can participate actively in the community.

Company Name
Maruhachi Technology
Business Description
Manufacturing and sales of natural seasoning, and bio-pharmaceutical manufacturing material
Date of Establishment
October 20th, 2009
Company Representative
Chairman Zenpachi Muramatsu / President Akio Marutani
Capital
10 million JPY
Sales
730 million JPY (as of 2022)
Address
800 Shirasawa Kitamachi, Makurazaki City, Kagoshima 898-0089

See in Google Map

Phone Number
0993-58-1230
Fax Number
0993-58-1231
Number of Employees
35 (26 male employees, 9 female employees), 559 in group as a whole
Group Company

Maruhachi Muramatsu Group Head Office, K.K